Android TV Stick / Android TV Box / Android Stick / Androidbox / HDMI Stick / Box HDMI / Mini PC / HDMI Dongle / Stick Smart TV / Smart TV Box.
Ultimately, this is all the same. Multimedia for everyone in an instant.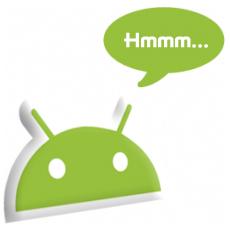 What is Android?
Android is a very popular operating system for more than one billion devices (Android, every day more and more people use) such as Smartphones, Tablets, HDMI Stick / Sticks Android and Android Mini PCs. Also, there are already "smart" cameras available that work on Android. It was originally developed by Android Inc.. but soon were larger companies interested in the operating system, such as Google. In 2005, Google decided to take over the company and since Android is bundled with comprehensive software applications. With Android, you can use all the Google Apps from the constantly growing Google Play Store (Google Play Store has more than 700,000 apps and games available) Android devices are all smart, but will only get smarter by more and more new features.
The biggest advantage of Android is the use and the availability of thousands of apps (applications) on Google Play Store. In the Google Play Store, you have the possibility to download these apps. Free or fee
The advantages of Android at a glance:
User
Access to Google Play Store (App's Free)
Free Updates
Android is an open platform, which everyone has the opportunity to customize and install Android on devices. Here is also the basis for the development of the increasingly popular Android Stick / box / mini PC.
Many well-known manufacturers use Android, think of Samsung, Sony, LG and HTC. Meanwhile, millions of people use Android. Android makes your life easier and more fun, of course. The Sky is the limit! Every time an update comes with Android there are more options in Android, yet remains easy to use.
We always attempt to deliver the latest Android version on our product offering. At present, the latest Android 4.4 operating system Android, called Android KitKat. This will be the operating system for the latest smartphones and it will not be long before our android android boxes and sticks to his will. KitKat also find Android
Android is the future
Unlike Windows and Apple Android is an open platform, everyone has the opportunity to contribute to their growth. Android is also a lot cheaper than their competitors and thus more attractive to hardware vendors. Android is within a few years become the most POPULAR operating system and will continue to grow in the future.
Below the logo of Android 4.4 KitKat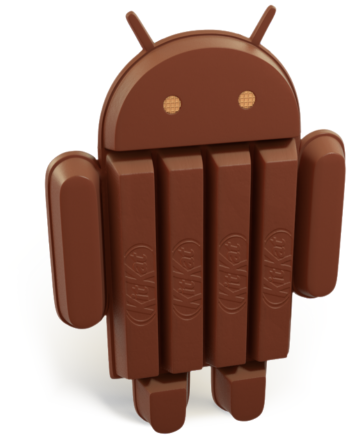 What is an Android TV Stick / HDMI Stick?
Actually it is a mini computer with the operating system Android.
This allows you to easily view HD movies, android games or surfing the Internet. Also chat via video calls is possible through Skype, for example via a Webcam! The possibilities are truly endless.
Streaming movies through example:
Youtube
XBMC
Netflix
Showbox (MovieBox for series)
With XBMC you get instant access to 1Channel or Icefilms, without having to do this! Through your browser Recently, Netflix is also available in the Netherlands. Allows you to unlimited viewing HD movies and series for a monthly fee
The games via the Google Play Store to download are wildly popular, examples are:
Candy Crush Saga
Angry Birds
Fruit Ninja
Not only the free 'simple games' as mentioned above are possible, but also realistic shooters or racing games in High Definition. Android is very fast in this area is growing, this is partly because Android is an open platform. Here are some HD games through the Google Play Store:
Modern Combat 4
Asphalt 8
NOVA 3
Shadowgun: Dead Zone
Video Modern Combat 4:
For the best gaming experience we recommend our Bluetooth GamePad to. This allows you to play games just like you would do. On an XBox
You get easy access to your favorite apps, thanks to the seamless integration of Google Play Store. Because you have access to Google Play Store you access to thousands of apps / applications / programs.
What are the different names for an Android Mini PC?
Android TV / Google TV / Android Stick / Androidbox / Android TV Stick / Android TV Box / HDMIstick / HDMIbox / Mini PC / Smart TV Stick / Smart TV Box.
Here is a small sampling of what you can do with an Android Stick / Androibox:
Internet
Gaming (Playing games)
Presentations
Youtube
Twitter
Facebook
Skype
Whatsapp
XBMC
Icefilms
1Channel
Netflix
Uitzendinggemist
Enamel
MSN
DLNA (Airplay)
Peliculas HD
Spotify
Buienradar
The Android Sticks are often not much bigger than a USB stick. The Android Boxes are slightly larger, but also much more outputs such as multiple USB ports. Connect your Android TV Stick / Box to the HDMI input of the LCD / LED TV and make it a Smart TV that will surpass your dreams. The possibilities are much wider as a Smart TV. This is of course the Android operating system.
Some Android Sticks and Android boxes are similar to the Apple TV Box, most are even better! Another advantage with Android is that there is much more available for free, such as the thousands of free app's through the Google Play Store to download.
Which you control an Android Stick / Androidbox?
- With a traditional USB mouse and / or keyboard.
- With a special flymouse spot. keyboard with it. (For example, the new Mele F10 or F10 Pro. This is also the flymouse / Airmouse we recommend)
- Use your Smartphone or Tablet.
We always ensure that we sell the best quality Android Sticks / Android Boxes. Of slightly more expensive to cheaper, Android TV Sticks / Boxes with HDMI output for newer TVs or A / V output for older TVs, we have the solution for everyone. We also continuously bring new models to our webshop. Please therefore our shop so closely, then you are always aware of anywhere!
We deliver Android TV as:
The next time there will be more and more Android Sticks and Android boxes on the market with a Quadcore processor. This Android Sticks and Android boxes make almost all use the following CPU / Video Processor combination:
The Android TV Sticks / Mini PC / Android TV Boxes we provide with one of the Quad-Core processors are: